Attractions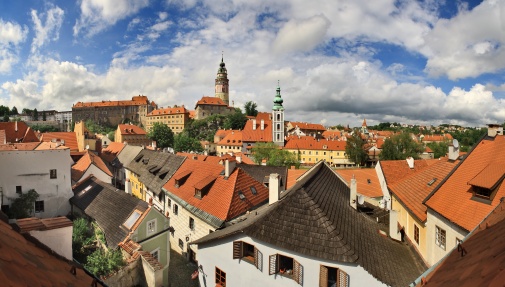 Český Krumlov state castle
Open-Air Theatre
Hluboká state castle
Třeboň city - UNESCO protected
Zlatá KOoruna monastery
Minorite Monastery Český Krumlov
Regional museum Český Krumlov
Marionette museum
Puppet museum
Wax museum
Egon Schiele Art Centre
Museum Fotoatelier Seidel
Observation "Stezka korunami stromů"
International Music Festival
Open-Air Theatre with the Revolving Auditorium 2017
For the 2017 season at the Open-Air Theatre with the Revolving Auditorium Český Krumlov, the South Bohemian Theatre has prepared a number of titles appealing to audiences - total 91 performancies. 
Opera lovers will be offered a new piece - the opera drama Il Trovatore by Giuseppe Verdi, directed by Tomáš Studený and with Mario De Rose's musical production. Other highlights include the splendid opera by Antonín Dvořák, Rusalka, directed by Jiří Heřman, and the opera The Cunning Little Vixen by Leoš Janáček, which was staged with great success in 2016 under the direction of the duo SKUTR.
The ballet ensemble will present a novelty in front of the Revolving Auditorium - the ballet story of Valmont. The Marquise de Merteuil and the Vicomte de Valmont hatch plots for which not only their innocent victims but 
 The Drama Ensemble of the South Bohemian Theatre will stage at the Open-Air Theatre a renewed premiere of the comedy The Decameron, the comedy Henry VIII's Wives and in addition the detective comedy The Hound of the Baskervilles.
The Little Theatre will return with the popular fairy-tale action comedy for the whole family, The Firebird and Zorro the Fox.
International Music Festival Český Krumlov 2017
The dominant feature of the IMF will be traditionally the opening opera gala concert which will belong to two opera stars this time - charming soprano Angela Gheorghiu and congenial tenor Ramón Vargas. They will be accompanied by PKF - Prague Philharmonia under the leadership of Leoš Svárovský.
Carnival in Český Krumlov 2017
A carnival festival will descend upon Český Krumlov between Saturday 25 and Tuesday 28 February. For the entire four days inhabitants and visitors can enjoy a wonderful spectacle of the coloured masque procession, travelling jugglers and musicians, good food and drinks but also traditional carnival entertainment.