Attractions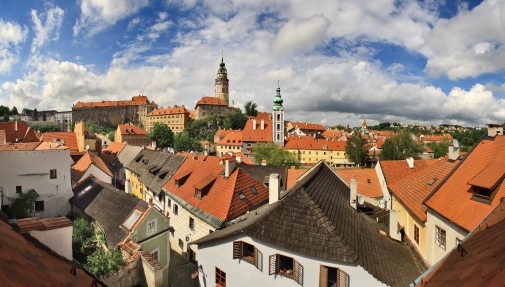 Český Krumlov state castle
Open-Air Theatre
Hluboká state castle
Třeboň city - UNESCO protected
Zlatá KOoruna monastery
Minorite Monastery Český Krumlov
Regional museum Český Krumlov
Marionette museum
Puppet museum
Wax museum
Egon Schiele Art Centre
Museum Fotoatelier Seidel
Observation "Stezka korunami stromů"
International Music Festival
Festival of Baroque Arts in Český Krumlov 2018
XI year of Festival of Baroque Arts in Český Krumlov present from 21 to 23 September 2018 contemporary world premiere of baroque opera L'Ingresso alla Gioventù di Claudio Nerone by Antonio Gianettini presented in Modena in 1692 on the occasion of the marriage of Francesco II d'Este and Margherita Farnese.
Five-petalled Rose Celebrations 2018
Sounds of medieval music resonate through the historical center of the town and its narrow lanes are filled with various conjurers and swordsmen. The market men have put up their stalls and the packed tavern on the main square emanates singing as well as a delicious smell of roasted meat. The Five-Petalled Rose Celebrations take place from 22nd to 24th June in Český Krumlov.
32nd Festival of Chamber Music in Český Krumlov
From 29 June to 8 July 2018, Český Krumlov will host the 32nd edition of the Festival of Chamber Music. As in the previous years, it aims to present music closely related to the Český Krumlov region, while at the same time bringing to bear the town's unique milieu and connecting it with well-known and less frequently played compositions as performed by top-notch musicians.
27th year of the International Music Festival Český Krumlov 2018
For the twenty-seventh time a multigenre musical display of European importance - the International Music Festival, which, besides leading artists of the contemporary foreign and Czech musical scene, will also present young talented artists, will take place in Český Krumlov. Between 20th July and 11th September the festival will offer a total of 22 music productions of different genres - an opera gala concert, symphony and chamber concerts, an organ concert, authentic interpretation, a swing, a musical and crossover. All that, as always, in attractive locations in Český Krumlov which enhance musical experiences.