Attractions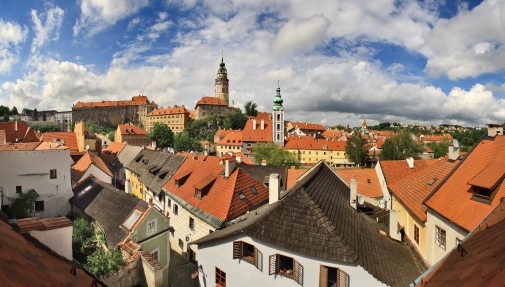 Český Krumlov state castle
Open-Air Theatre
Hluboká state castle
Třeboň city - UNESCO protected
Zlatá KOoruna monastery
Minorite Monastery Český Krumlov
Regional museum Český Krumlov
Marionette museum
Puppet museum
Wax museum
Egon Schiele Art Centre
Museum Fotoatelier Seidel
Observation "Stezka korunami stromů"
International Music Festival
Revolving Theatre Český Krumlov 2020  
Season 2020 at the Revolving Theatre will be very special. We have prepared for you some proven classics, and some premieres.
Artists will first introduce you a new comedy directed by Petr Zelenka named Da Vinci. The comedy about a journey into the life and times of the famous painter will show you what can happen if you are willing to sacrifice everything for one remarkable picture. Art historian Silvio learns that living near a genius is far from easy.
The fairy-tale wave will again take place - the 2020 season at the Revolving Theatre will be opened by the immortal musical Finian's Rainbow. It will engage everyone who likes musicals.
We´ll stay in fairy-tale from now on - soloists of the South Bohemian Theatre appear in the Sleeping Beauty along with the members of the Bohemia Ballet and the students of the Dance Conservatory of the Capital City of Prague. It will delight not only the adherents of the classical ballet en pointe, but everyone who likes fairy tales.
Also this year you and your children can enjoy an adventurous show for the whole family The Lost World, which will certainly delight dinosaurs´ lovers, and the detective comedy The Hound of the Baskervilles.
The most narrative production in the history of the Revolving Theatre with a total of 180 performers including a 50-member orchestra - that´s the oriental fairy-tale about Prince Kalaf's love for the beautiful yet cruel Princess Turandot. Under the starry sky in the castle park, opera stars from all over the world will perform.
You can also look forward to the renewed premiere of Janáček's most popular opera The Cunning Little Vixen, where human and animal fates set in the natural scenery under the crowns of centuries-old trees will surely impress you.
At the very end of the summer, the castle park in Český Krumlov will introduce a second novelty - a production directed by Petr Forman, The Double Star Man. A furious dreamer Alexander Grin will take you into a world of fantasy, love and hatred and show you why it is so important not to give up your wishes and dreams.