Things to do in Castle View Apartments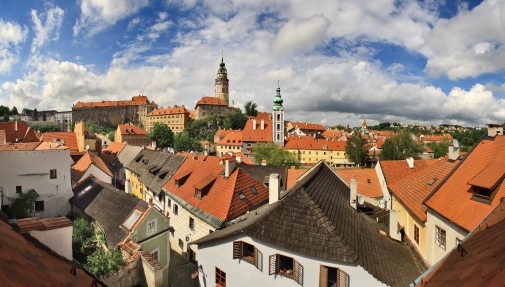 Český Krumlov state castle
Open-Air Theatre
Hluboká state castle
Třeboň city - UNESCO protected
Zlatá KOoruna monastery
Minorite Monastery Český Krumlov
Regional museum Český Krumlov
Marionette museum
Puppet museum
Wax museum
Egon Schiele Art Centre
Museum Fotoatelier Seidel
Observation "Stezka korunami stromů"
International Music Festival
Revolving Theatre in Český Krumlov 2 Jun – Sep 2023
Drama, musical, or ballet - but above all, the exceptional experience of a performance in the theatre with the highest ceiling in the world. This is what the Revolving Theatre offers to young and adult spectators.
The productions of world-famous authors performed by the South Bohemian Theatre take place in the beautiful natural scenery of the castle garden. The choice of repertoire, the directorial concept, the actors' performances, and the original garden scenery will captivate every spectator. All performances are subtitled in German and English and are also suitable for the hearing impaired. Fifty tablets with subtitling software are available for loan at the box office of the Revolving Theatre.
Festival Krumlov 17 Jul – 5 Aug 2023
The Festival Krumlov (Český Krumlov International Music Festival) has been held since 1992 and today, thanks to the combination of the attractive environment of the historic town and music of many genres, it is a permanent component of the European cultural calendar. Concerts are held in the interiors and exteriors of the Krumlov castle, in the brewery gardens, as well as in other representative areas of the town. The uniqueness of the environment and the very strong atmosphere has attracted many leading foreign and Czech performers to Krumlov. Every year, the Krumlov festival presents the best of the world music scene. 
Český Krumlov Baroque Arts Festival 15 – 17 Sep 2023
The Baroque Arts Festival is a celebration of early music and brings to life original masterpieces by Baroque composers in the city's historic spaces. The Baroque Theatre in Český Krumlov was not chosen by chance for the performance of modern world premieres of Baroque operas. There is no other theatre in the world so perfectly established for performing original adaptations, including period stage performances. The festive moment of the performance of the rediscovered operas is enhanced by the fireworks and illuminations in the Castle Gardens.